80 Serving Freeze Dried Meat Bucket and Rice
Regular price
£199.99 GBP
Regular price
£329.90 GBP
Sale price
£199.99 GBP
Unit price
per
Sale
Sold out
Our 80 Serving Freeze Dried Meat and Rice Bucket is a perfect addition to
any food supply. Whether you're affected by a snow storm, flooding,
electricity fallout, other weather emergency or just want to prepare an
easy meal outdoor or at home - it's wise to be prepared. These great-
tasting freeze-dried and dehydrated foods are ready in minutes when
you just add water. They also come in stackable buckets with an easy
Grab-N-Go handle, so they're easy to store and transport. 

What's included in this kit?

2 pouches of Roasted Chicken (32 total servings) 
1 pouches of Roasted Chicken Flavour Seasoning
2 pouches of Roasted Beef (28 total servings)
1 pouched of Roasted Beef Flavour Seasoning
4 pouches of Rice (20 total servings)

Additional Product Details:

Includes 1 total bucket
Total calories: 7,839
About 80 cups of water needed
Food is safely sealed in Metallyte™ pouches
To avoid waste, each pouch conveniently resealable
Grab-and-go handles for easy transport in an emergency
15 year shelf life

Total Weight: 1.73kg (3 lbs)
Dimensions: 11.75" x 9.75" x 12.50"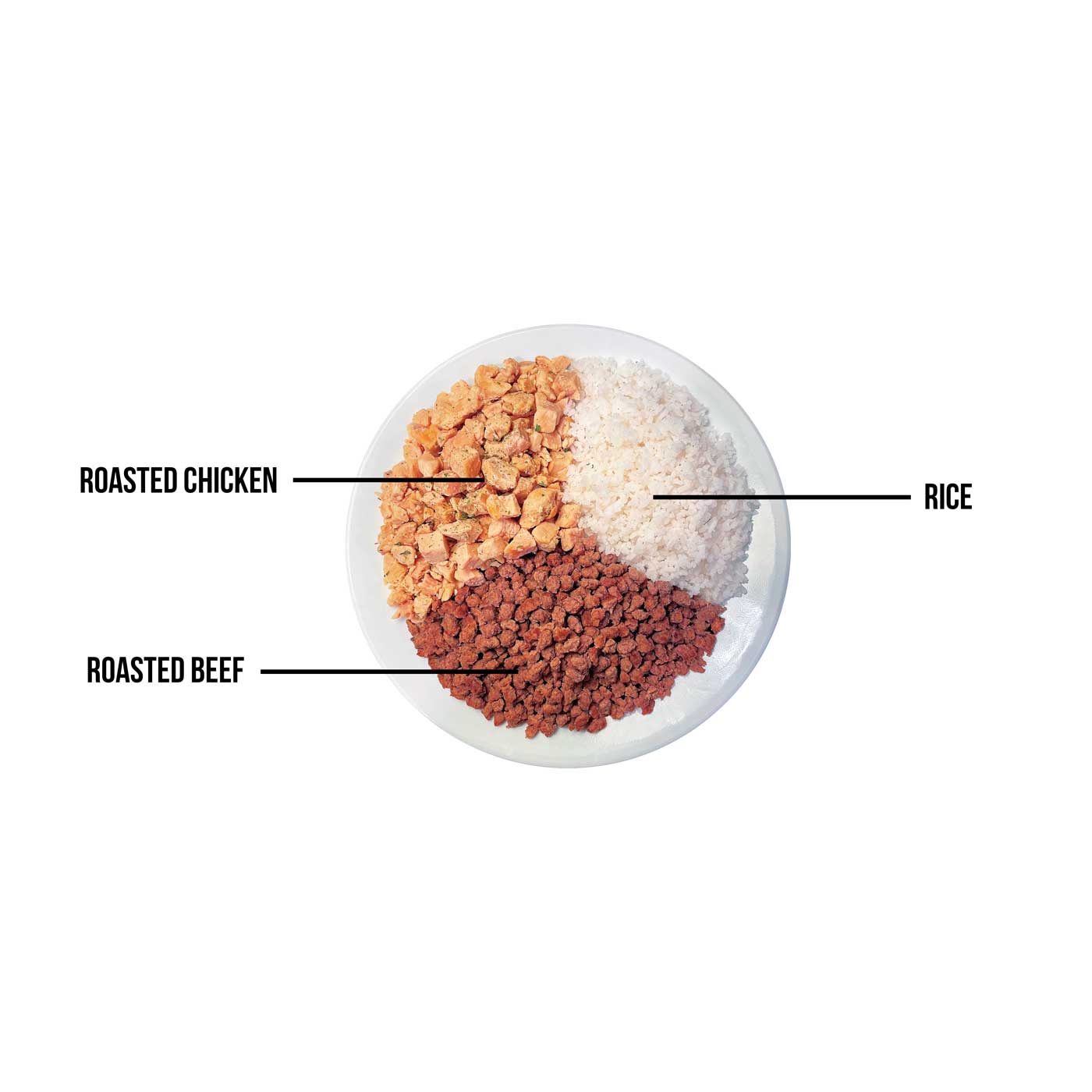 Customer Reviews
Very Pleased

⭐⭐⭐⭐⭐

We always try to keep emergency supplies on our farm in case of storms or natural disasters. The last food supply we bought was attacked by mice who worked through the packaging. These heavy duty buckets work well and provide shelf life that is superior.
We have not eaten the food yet so I can comment.

- Anthony F.

Great Product

⭐⭐⭐⭐⭐

This is a great product by reputable company. I got this for my niece who lives in a large city. If there's ever a major disaster etc, she will be able to have food and security in her home until help could come. This makes me and my neice feel much better about her safety. She has also stored water in case of an emergency. Wise product and a wise idea in the world today.

-Bracha

Food Insurance

⭐⭐⭐⭐⭐

With the economic situation as it is today and it seemingly getting worse, its a "wise" idea to have some food storage in place for emergency purposes as a safety net. These are light weight, store easily, last long and are tasty.

-Amazon Customer

Easy To Store And Use

⭐⭐⭐⭐⭐

Bought it as wanted to have some ready food for my camping and hiking trip. Or honestly, when I just do not feel like cooking and spending a lot of money on a takeaway. This product ticked all the boxes. Very satisfied with my purchase.

-Oleg

Peace Of Mind In A Chaotic World

⭐⭐⭐⭐⭐

I can't attest to the taste as yet, but have the peace of mind of a good food source in the event of a long term emergency situation. These are well made buckets, stack well and would be easy to transport.

-Traveler

Amazing Buy For The Price!

⭐⭐⭐⭐⭐

I got this to prepare for emergencies, but I've tried a couple of packets just to see how it tastes! The cheesy macaroni was AMAZING and I also enjoyed the creamy pasta. The packaging is great, fits nicely in my larder. Overall, it's great to have just in case. I'll definitely buy again… thinking of adding a 120 meal bucket!

-Malachi